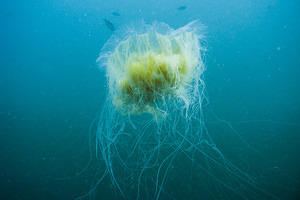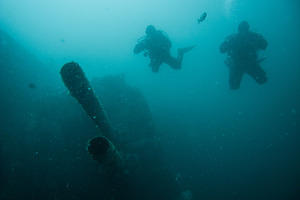 Photos of pelagic invertebrates at the Yukon
Last weekend I did two dives on the Yukon with Pete, Paul, and Matt. I wasn't expecting much, as the water can be green and brown this time of year. We were amazed by the water quality on the first dive. Though snowy, the water was very blue – it was like diving miles off shore.
The other thing that was very different was the amount of open water (pelagic) critters that were near the Yukon. You usually have to be miles off shore to see the types of invertebrates we saw on the wreck – salps and salp chains, fried egg jellyfish, and comb jellies. It was very interesting to see them all drift by, watching their mostly clear bodies feeding on phytoplankton.
It is amazing how much the ocean can change in an hour. The second dive was still good, but the water had turned from a deep ocean blue to a green hue. There were still a number of salps hanging around in the water column, but they were getting picked apart by blacksmith schools.