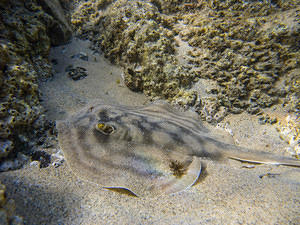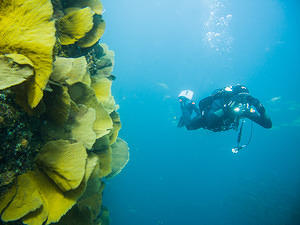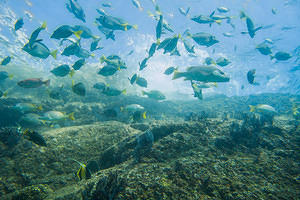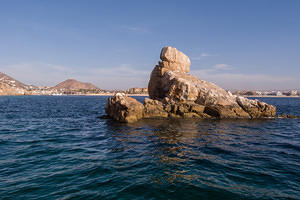 Photos of Scuba diving Los Cabos (Cabo San Lucas)
During our visit to the tip of Baja we enjoyed two days worth of diving. The first day of diving we stuck to relatively easy local sites. The first dive was at Pelican Rock, site of the famous (or not so famous?) sand falls. The sand falls were a mild curiosity for me, much more exciting were the huge schools of fish circling the rock walls. There were several large groupers hanging around, but none would let us get very close. Near the end of the dive we were able to get up close to some of the tangs, box, and butterfly fish that hung out around the rock's walls. The walls are covered with some impressive fans and anemones and the site looks quite healthy. One thing to note – stay on the bottom until you are ready to join your dive boat as there is massive amount of boat traffic in the area. When we started the dive early in the morning we were the only boat around. When we finished and came up there were about 10 other boats anchored within a stones throw away.
The second dive was on a wall just south of Pelican Rock. The wall was interesting, but again the shallow critters were a bigger draw. Large schools of fish, including large trumpet-fish were milling about in the 10-30 foot range around the rocks, snacking on salp chains that drifted into the area. The sand flats around the rocks were full of life as well – quite a few rays and guitarfish had buried themselves in the sand channels.
The second day of diving was much more ambitious. We did some more advanced diving on an open water sea mount known as Gordo Banks (or Gorda Banks). The depth of the mount is about 115′, so we used 28% Nitrox for both dives. This site is known for the chance to see large open water critters like sharks, mantas, and tuna. Unfortunately for us, the visibility was quite poor for both dives. The water was green and less than 15 feet of visibility from 20-100 feet. Under 100 feet it cleared right up, it was a bit like stepping out of a fog. We saw some very large jacks (people sized) on both dives, in addition to some large schools of fish. We caught a glimpse of a small school of hammerhead sharks on the first dive, but they were in the pea soup green above us, and we couldn't catch up to them. It would be a great dive site with better visibility.
We saw a marlin on the surface during one of our intervals, and I hopped in to try to snorkel with it. I missed my mark or it didn't like me – it was long gone. The trip back to harbor was against the wind and it took us several hours to get back to the harbor. Make sure you bring sea sickness meds if you think you might need them – several people fed the fishes, including our captain.
I think our mixed diving results have a lot to do with the strange weather patterns in the pacific this year. The water was much colder than they are used to (water temp at depth was 63-64F) and it seemed like summer wasn't quite there yet. It definitely warrants another attempt when we make it back down again, you never know what you will see in the open water.