I've enjoyed touring Scottish distilleries as well as wineries around the world, but had never visited any American distilleries. We thought that this needed to change and found ourselves in Kentucky late September 2013 to visit some parts of the Bourbon Trail. We based ourselves in Louisville and visited five distilleries over the course of a few days – here are my thoughts on each of them.
Buffalo Trace
Buffalo Trace makes a wide variety of bourbon with several different lines represented. Their budget Buffalo Trace is excellent value, typically close to $20/bottle. Things get a bit more expensive from there, with Eagle Rare and Blanton's being the more premium versions, and then quickly escalate into ridiculous collector prices with their antique collections of Sazerac, Wller, Eagle Rare, Staggg, and Handy Sazerac.  However, even those can't touch the ultra ridiculous frenzy over the ever elusive Pappy Van Winkle.
Located in Frankfort, the small capitol of Kentucky, the Buffalo Trace distillery is somewhat off on its own from some of the other large distilleries. Distilling began on the grounds sometime before 1773, so in addition to being picturesque, the area has a lot of history.  Buffalo Trace's tours are all free, which is pretty amazing when one considers each of their many tours per day finish with generous pours of their white dog, base bourbon lines, and sweets.  Our tour guide was a second generation worker and had a genuine love for the company and its history. The only negative thing I could cite them for was a video included on the tour which was a little too long & marketing heavy. Note that the default tour does not go behind the scenes to the mash or other areas – in order to see those areas one has to sign up with those specific tours in advance, which is highly recommended. This was one of my favorite spots to visit, as the grounds were lovely to walk around and the staff extremely friendly.
Woodford Reserve
Though Woodford Reserve releases limited editions they are mostly known for their base bourbon, Woodford Reserve, or the more premium version, Master's Collection.  Woodford is a relatively new brand (1996) on a very old site. Located just south of Versailles, distilling started on site around 1780 and the main stone distillery building was built in 1838.  Though a well known brand I was surprised to see just how small these facilities were – the fermenters, bottling and storage is all housed within the older historic stone buildings.  Woodfords tour was the most organized we went on – a bus ride down and headsets to hear the guide, however the tour also costs $7.  Disappointingly the tour only includes a taste of their main line – Woodford Reserve. Though one can can talk up some of the gift shop folks for a taste of the double oaked if they display enough interest and seem like buyers, it would have been nice to try some of their other items not easily available, like their recent foray into malt whiskys.  This site is one of the prettiest that we visited, and is a worth a visit to see the landscape and distillery alone.
Four Roses
Four Roses has been around as a brand since 1888 and the mission style distillery building was completed in 1910.  Four Roses has had a bit of a roller coaster ride over the years – very popular the 1930s-1950s, the brand and product diminished in quality up until being revitalized over the last decade or so.   I was excited to visit the Four Roses distillery as their single barrel bourbon holds a special place in my heart.  Though the tour was free, and the pours (almost too) generous, unfortunately this didn't keep a special spot in my heart.  Their use of multiple yeast strains is interesting, but the the Four Roses facilities are industrial feeling and the tour started with a marketing video.  The experience simply wasn't able to full compete with some of the others we visited.
Willett Distillery
Willett Distillery reminded me of a winery in Napa valley – aesthetically pleasing, artisanal, and focused on visitors a key driver of sales.  Home to a gorgeous pot-still and a pretty view, the distillery has plans to open a B&B on site and I'm sure they will do well for themselves.  The tour has a small fee associated with it, but I thought it was well done and worth the fee.  The tour finishes with a taste of their standard bourbon (which I'm not the biggest fan of, though their bottle is very pretty), in addition to what ever other lines they have available.  I tried several different kinds and brought home two bottles of their 4 year old rye which I was very impressed with.  Note that their facilities are fairly new here – if you see the Bourbon family tree you will notice that their line is associated with other producers for the older varieties.  Time will tell what older spirits from their wonderful new pot-still actually taste like.
Heaven Hill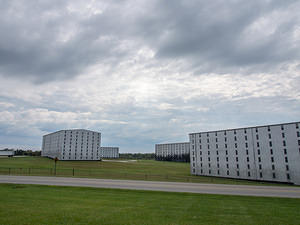 We had a short visit to the new Bourbon Heritage Center at Heaven Hill Distilleries.  I wasn't particularly impressed, but I can't say I gave them a full chance either as we did not take the full tour.  It seemed a bit overly commercial for my liking, kind of like a booze Disneyland.  The prison style metal warehouses surrounding the facility did little to encourage any generous thoughts of craftsmanship, though I'm sure that is completely unfair and unjustified on my part.  While I'm not a huge fan of many of their brands, Josh tried a number of their older releases of Elijah Craig and came away impressed enough to buy a bottle.  Long story short, don't just take my word for it.
Final Thoughts on the Bourbon Trail
I didn't know quite what to expect for our tour of bourbon country, but I came away quite satisfied with the trip.  It seems that even though plenty of cash has flowed into the industry it has not significantly corrupted it; the bulk of the people working that we met are genuinely passionate about their craft, and they enjoy sharing that passion with visitors.  If you are in the area and have even the slightest interest in spirits, I highly recommend taking at least one tour.