As I've been moving all of my home automation projects over to the SmartThings environment, I'm expanding my number of devices and scenarios in order to take full advantage of the easy monitoring and alerts which are possible within the SmartThings ecosystem.
The Problem
Leak detectors are normally pretty simple devices; water conductivity completes an electric circuit and a buzzer or alarm sounds.  This is great if you are within listening distance, but next to useless if you are away from home or even in a different part of the home.  Having recently seen the damaged caused by a burst hose at a friend's house, the benefits to being alerted to a leak as quickly as possible are obvious.
When I initially started looking at z-wave devices to detect leaks and floods I found some things I didn't like about most of the products available.  The first design flaw I found is that many of the devices were designed to sit on the same surface which was going to flood – they didn't have a detachable monitoring lead.  This means that there is a pretty good chance that the devices are going to fail after or during a flood, as they are not designed to be waterproof.  The second thing I didn't like about most of the devices on the market was price, with many starting around the $50 mark.
The Solution
During my search for an affordable z-wave smoke alarm I discovered that many devices made for the Lowes Iris system were z-wave compatible.  Searching that further I found that there was a leak detector made by Utilitech which was reasonably priced at around $30 which also worked with SmartThings – Utilitech Water Leak Detector White Indoor Flood Sensor (Works with Iris) Item #: 422362 | Model #: TST01-1.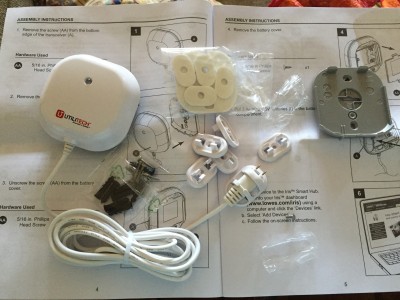 I purchased one and put it to use with my SmartThings system.  First up, hardware impressions.  It appears to be well made, all of the pieces have a solid feel and the mounting is well designed (they also include a lot of mounting tabs if you have particularly long cable runs).  The device has a separate lead for the water monitor so that the device can be mounted above where the monitor contacts are mounted.  The leak detector was easy to pair with SmartThings and a number of SmartApps are suggested after the device is configured in the SmartThings system.  I chose to work with some of the included SmartApps for Damage & Danger to do two things when water is detected – send a push alert to my phone (and any devices connected to the SmartThings account), and send a text message to my telephone number.
As with my smart smoke detection I used the Sonos integration with SmartThings via Sonos Notify with Sound to send a text to speech (SmartThings detected a flood) auditory alert about the leak as well.  I tested the alerts a number of times and it seemed to be fairly responsive, typically the SMS & push message updates were received on my phone in under 5 seconds.  In total the installation of the leak detector and setup of the SmartApps had taken less than 20 minutes.  Not bad for a bit more intelligence at home.
Save 10% on SmartThings
If you are interested in using SmartThings, this referral link will get you 10% off any shop.smartthings.com order containing a Hub or Kit.